What's it Entail?
Mike Gonzalez and Vito Randazzo would like to welcome you aboard Another Round, a 28 ft. O'Day sailboat. What better way to spend a summer day or evening than sailing on the waters of Lake Erie.
Another Round can accommodate up to four passengers and will take you on a minimum of a two hour cruise. Come experience the joy and relaxation that being out on the water can bring
Cruises are $80 for the first 2 hours, includes up to 4 guests. $20 for each additional hour.
Charters are available on Wednesdays (days and evenings) and Saturday (days only) by appointment.

Where We Are

About the Captain(s)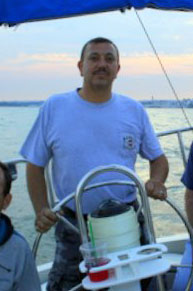 Mike and Vito are longtime friends and co-workers who, much to the chagrin of their families, discovered the joys and challenges of sailing. They became U.S. Coast Guard licensed captains and are always looking for an excuse to be out on the water. So give them a call, they want to go sailing!